Alabama is back, with the thirty-eighth-sighted feline on the street between boundaries Adams and Lincoln, since the series started in October 2016. Another four follow consecutively. Your guess why the Alabama abundance easily could make more sense than mine. Prevailing theory: Human population density, because of the comparatively, unusually high percentage of multi-unit rental properties—and fairly frequent tenant turnover with them. More people, more pets.
About three weeks ago, I first observed Fuki (her real name) sleeping on an outdoor sofa in a yard that should be called a cat paradise—for the lush trees and shrubs and varying areas of sunlight and shade that provide changeable siesta spots. I captured the Featured Image on July 1, 2019, using iPhone XS, which replaces my recently-departed Google Pixel 3 XL. Vitals: f/2.4, ISO 16, 1/302 sec, 6mm; 10:46 a.m. PDT.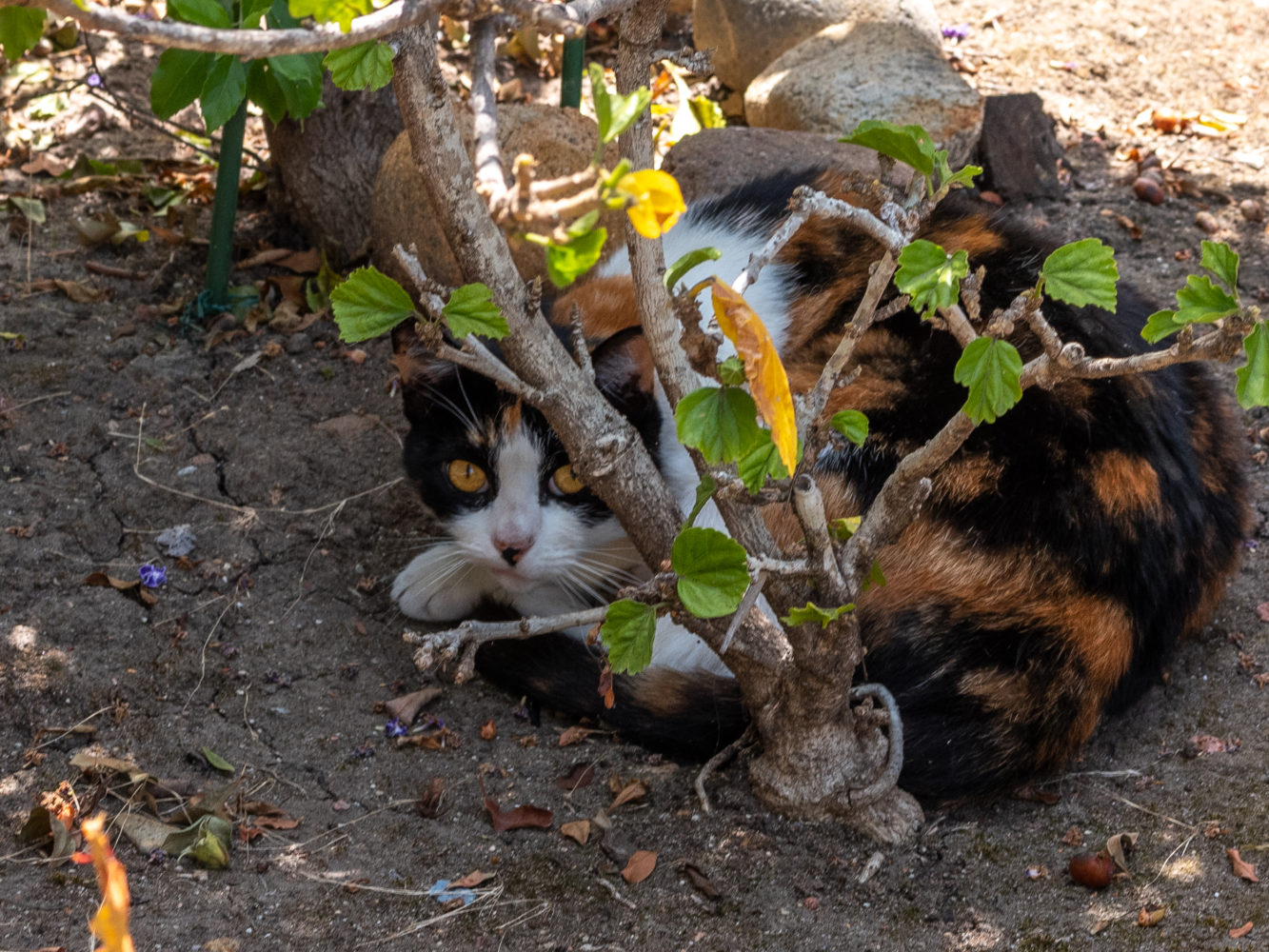 The second portrait, a close-crop, comes from Fujifilm GFX 50R and Fujinon GF63mmF2.8 R WR lens. Vitals, aperture manually set: f/8, ISO 160, 1/125 sec, 63mm; 11:02 a.m., July 3.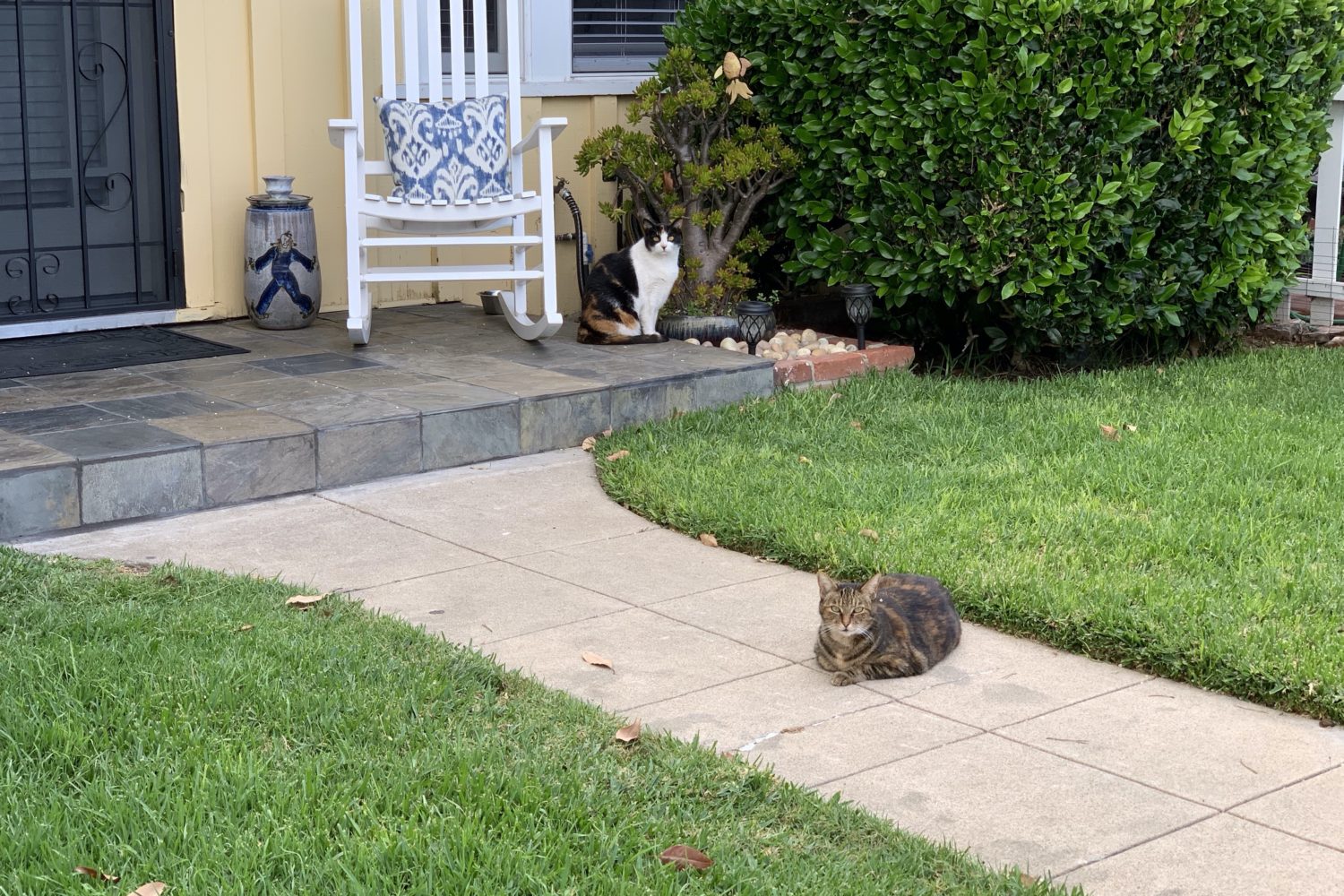 Turns out that the yard where Fuki likes to hang out isn't her home. The two-year-old Calico lives across the street with Mitsie, who we featured in early January. The shot of them taken together is another iPhone XS composition. Vitals: f/2.4, ISO 16, 1/76 sec, 6mm; 6:07 p.m., July 7.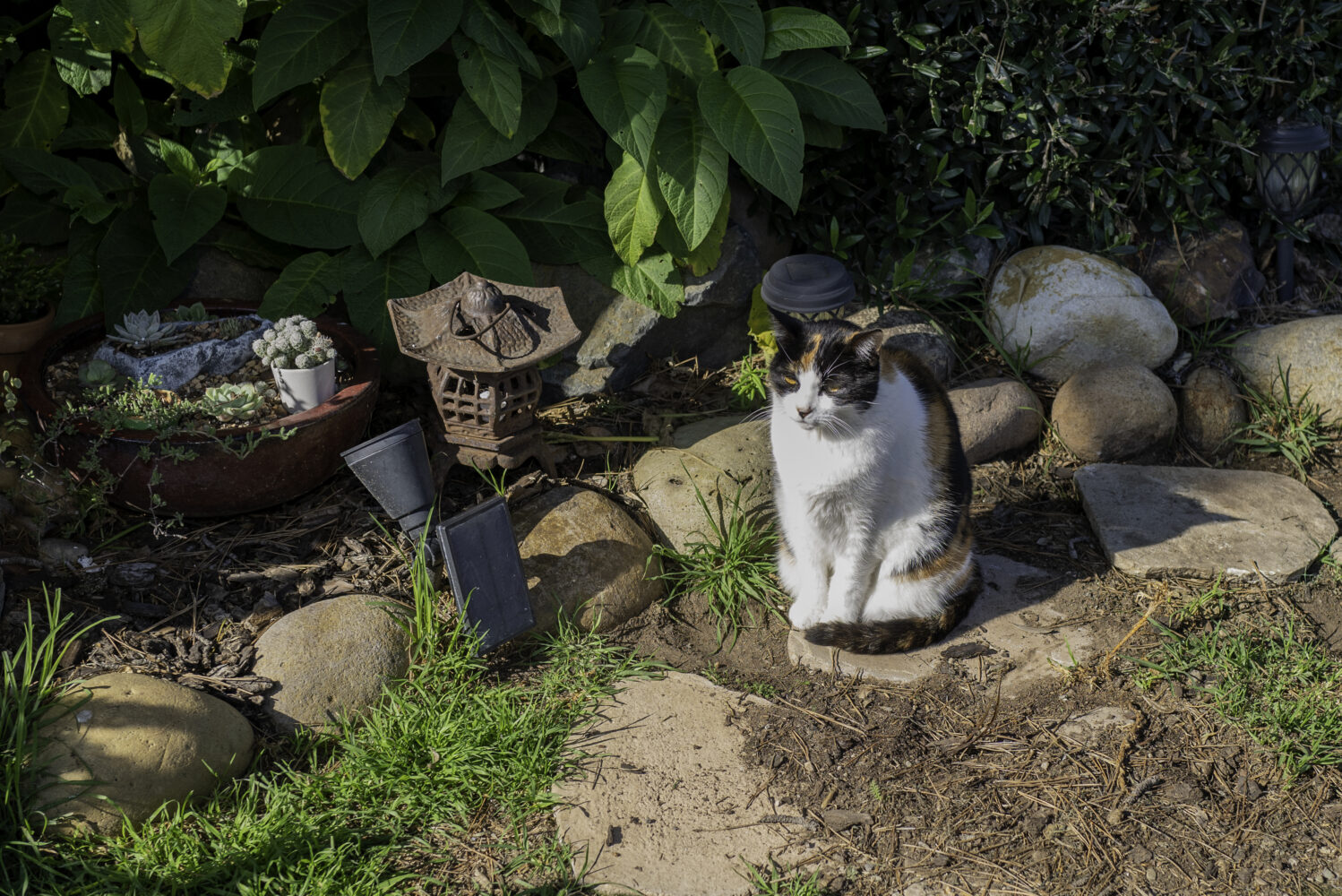 Update July 4, 2022: Several months have passed since I last saw Fuki. Today, finally, I talked to the owner and asked about her whereabouts. She is gone, after coming home lethargic and passing away in her sleep. The additional portrait is the last I made, on Jan. 19, 2022, in her yard not far from where she is buried. Vitals, aperture manually set: f/2.8, ISO 100, 1/800 sec, 28mm; 2:01 p.m. PDT; Leica Q2. Few weeks ago, Mitsie disappeared, too.
Previously: Scruffy, Roly Poly, Woo, Skull, Biscuit, The Colonel, White,  Chipper, Frisky, Stretch, Honey Bunny, Farfisa, Mates, Hunter, Pee-Pee, Blue, Blue Too, Bonded Pair, Patience, Fess, Jumper, Frenemy, Looker, Cozy, Scout, Lurks, Skit, Mini, Betty, Black and White, Stalker, Bell, Chill, Sammy, Scratch, Poser, Star, Grey and White, Watcher, Herman, Comet, Roman, Willow, Chub, Nimbus, Watson, Lilo, Kit, Pepe, Twilight, Sebastian, Spot, Booger, Ash, Veruca, Riley, Mellow, Bonde, Cocoa, Glass, Black, BeBe, Fang, Bruce, Siamese,  Pounce, Tortie, Haiku, Fraidy, Peso, Daniel Tiger, Dusk, Stride, Dainty,  Spry, Tabby, Betty Too, Still, Levi, Shadow,  Sophie, Wink, Ferals, Momma, Charlie, Tux, Cool, Benny, Jellicle, Itchy Valentino, Goldie, Anthony, Amanda, Siesta, ChaCho, Charlie, Too, Mika, Crystal, Seeker, Mittens, Dancer, Smokey, Monkey, Captain Blackbeard, Season, Maven, Tink, Chunk, Curious, Hanoi, Bella, Tarry, Guido, Maxine, Mr. Kitty, Peohe, Panda, Frankie, Moose, Twain, Willow, Too, Nelson, Reddy, Burglar, Laramie, Lupe, Bright, Norman, Charm, Buddies, Boss, Ohana, Seer, Fresh, Token, Lola, Carl, Bramble, Finny, Cal, Lilly, Zander, Mew, Penny, Charlie (the Third), Bob, Apple, Persepolis, Sebastian, Too, Holiday, Snow, Desire, Luci, Torbie, E.T., Bushy, Cali, Precious, Gracie, STAR, Sky, Amble, Aylin, Lucky, Herbie, The Love Bug, Roadie, Harley, Kit (Coon), Dizzy, Moophie, Lucy, Choontzy, Abby, Kitty, Stella, Wily, Coon, Ghost, Donuts, Envy, Vivienne, Stripe, Smokie, Dare, Gipper, Little, Bushy Black, Princess Leia, Darth Mew, Phil, Maui, Patch, Royal, Sleepy, Spice, Dutch, Striker, Maxie, Fluff, Gazers, Georgia Twain, Friends, Cupcake, Caddy, Ginger, Shrub, Brumble, Stoic, Patriot, Backyard, Prim, Tuna, LilyTiger, Nala, Poise, Amazon, Night, Snoozy, Honey, Shine, Sugar, Clarity, Alfredo, SID, Bashful, maow maow, Sentinel, Grape, Usher, Serenity, Teach, Tocino, Stark, Comfy, Tranquil, Storm, Mitsie, Monarch, Ruff, Shadow, Too, Calm, Brick, Shy, Mewl, Valentine, Siamese Twins, Tony, Mao, Starlet, Sly, Alley, Noble, Sphynx, Jake, Rocky, Peanut, Giotto, Swirl, Rosie, Smudge, Bliss, Charlie IV, Risky, Pinky, Patches, Ninja, Cat, Olive, Toasty, Mandy, Ludwig, John Adams, Hawk, and King.